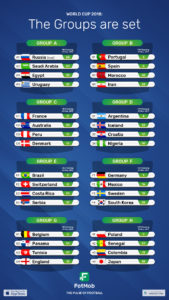 World Cup Draw: First Reactions
Finally, we have the eight groups determined for next summer in Russia. Which group your nation was lucky enough (or unlucky enough) to be placed in can completely change your hopes, with six months still to wait. With that in mind, here are our first reactions to what the draw could mean. Let us know your thoughts on Twitter – which group are you most looking forward to? We're at @FotMob.
Favorites that could be in trouble
It could be the last time we see Messi at a World Cup, and Argentina were not gifted a kind draw. They'll have to get past the mettle of Iceland, the craft of Croatia, and Nigeria was maybe the last team they wanted to see emerge from Pot 4.
France might just bring the most talented squad to Russia next summer, but we still haven't seen them hit the heights they're collectively capable of. Their qualification campaign included goalless draws against minnows Belarus and Luxembourg, which are nowhere near the dangers of Denmark and Peru.
Belgium have Eden Hazard, Kevin De Bruyne, Romelu Lukaku, and Dries Mertens going forward, with Thibaut Courtois and Jan Vertonghen at the back, and yet they suffer from the same condition as France. England and Panama could be frustrating opponents this summer, treating Belgium to an early exit.
Surprises to watch out for
Sweden made headlines for getting past Italy in a playoff (or rather, Italy made headlines for failing to qualify), but overall, they flew a bit under the radar. They managed to qualify despite a group containing France and the Netherlands, and the subsequent playoff. Despite their reputation as a well organized side with a stingy defense, they scored the 6th most goals out of 54 UEFA nations in qualifying. Their group features the current world champions Germany, a Mexico side that easily qualified from a chaotic CONCACAF, and South Korea, but it certainly wouldn't be a surprise for them to come second.
Nigeria came out of Pot 4 to land in Group D alongside Argentina, Iceland, and Croatia. Looking at their roster, they boast the talent capable of causing headaches in Victor Moses, Alex Iwobe, Kelechi Iheanacho, and John Obi Mikel. And while it was only a friendly, they did manage a 4-2 win over Argentina in November.
You wouldn't bet against any side containing Mohamed Salah at the moment, making the Pharaohs a potential spoiler. They're unlikely to make a deep run in the tournament, but they could be capable of a result that ruins Russia or Uruguay's plans in a relatively weak Group Aalso including Saudi Arabia.
Best group for neutrals
If you're looking for the best soccer next summer (we're thinking of you, US fans) Group F is the one you'll want to be sure you adjust your schedules around. Featuring Germany, Mexico, Sweden, and South Korea, every match will be worth watching. The seemingly only certainty here is that Germany will get out of the group, but every other possibility is up for grabs. We'll be treated to a fantastic match-up to begin the group, as Germany take on Mexico on Sunday, June 17.