The world of football moves fast and with fifteen million active monthly users, we're in the perfect position to see where the eyes of global fans have been drawn in November.
A couple of Premier League classics, a Spanish supernova and the completion of a hat-trick of hat-tricks have all played their part. Here's our rundown of FotMob's most viewed players, clubs and matches over the last 30 days.
And there are some surprises.
---
---
Most Viewed Players
10. Alex Grimaldo (Bayer Leverkusen)
Xabi Alonso's Bayer Leverkusen are the most red hot team in Europe, right now. 17 wins in 18 games, in all competitions. A huge part of that is the sparkling form of their two swashbuckling wing backs: Jeremie Frimpong and Alex Grimaldo. The Spaniard has 9 goals and 5 assists, with 4 goals in just 3 starts in November and a return to the national side, where he also assisted in a 3-1 win over Cyprus. 
9. Serhou Guirassy (VFB Stuttgart)
FotMob users have been flocking to view Guirassy's page, since the start of the season, as the man from Guinea just could not stop scoring. The goals have slowed down a little, but it was hard not to after 13 goals in his first 7 games. His one strike in November was the match winner against Dortmund and he's still keeping Harry Kane honest, at the top of the Bundesliga scoring charts.
8. Endrick (Palmeiras)
Real Madrid are our most followed club on the app, and their fans came in their droves to find out who the 17-year-old wonderkid is that's lighting up the Campeonato Brasileiro. Signed by Los Blancos this time last year, for £52m, the teenage sensation has to wait until the summer to grace The Bernabeu, but November saw another dream realised – a debut for Brazil against Colombia.
7. Erling Haaland (Man City)
From a left-footed striker starting to make his mark to one who has cemented his place as the world's most formidable front man. November, like every month, saw lots of goals from Erling Haaland. 6 in 5 games. That's 71 in 73 games for City. 261 goals in 266 games for club and country, since he left Molde as a teenager. And a treble-winner for good measure. And he's only 7th, because it's all just so inevitable.
6. Jérémy Doku (Man City)
Jérémy Doku has been a breath of fresh air. Outside of Ligue 1 fans, not many would have seen his ability to glide past full backs, in full flight. Canny Fantasy League managers were rewarded with the performance of the season, as Doku cut Bournemouth to ribbons, registering 4 assists and a goal, in early November. He backed it up with 2 more assists for Belgium and a fantastic display against Liverpool. The world is taking notice.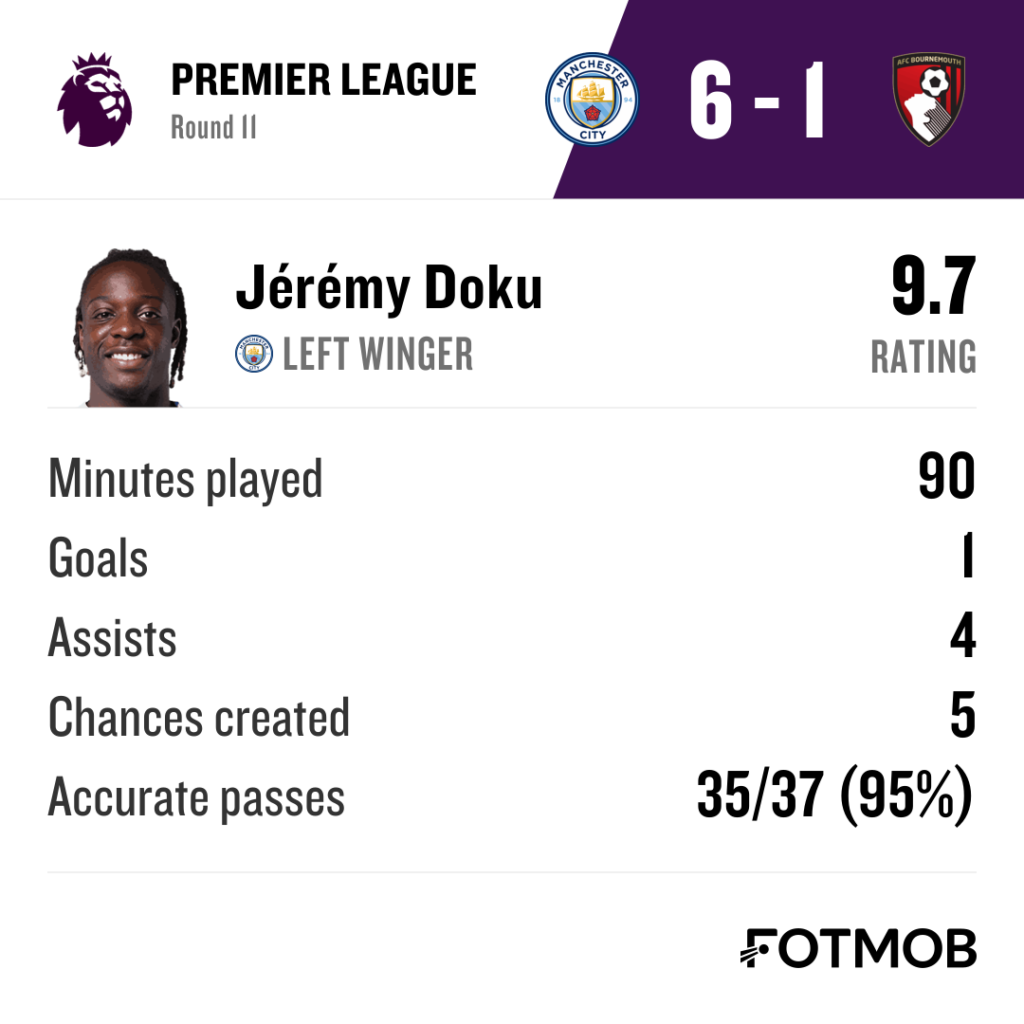 5. Mo Salah (Liverpool)
Just when you start to think Mo Salah's star is fading, he comes back better and more deadly than ever. Still rapid, still lethal, still clocking up goals and still the Premier League and the world's most dangerous right winger. Fresh off a Merseyside Derby double in late October, he put 2 more past Brentford, flew to Cairo and hit 4 against Djibouti, 4 days later. 13 goals and 5 assists, this season, spearheading Liverpool's revival.
4. Jude Bellingham (Real Madrid)
October's most viewed player on FotMob and Real Madrid, England and the world's golden boy. Jude Bellingham's quite incredible start for Real, has been hampered by injury in November. An El Clasico double in late October launched him into a new realm of superstardom for a 20 year-old midfielder. He returned on Sunday, and scored. Midweek, he scored again against Napoli. That's 15 goals in 16 games. Brand Bellingham will be back in the top three, soon enough.
3. Cole Palmer (Chelsea)
Well, well, well. Football does throw up some surprises. In November, Chelsea featured in two of the most enjoyable and talked about Premier League games for years. A goal and assist for Cole Palmer in a 4-1 win against a maverick nine-men Spurs, before he took centre stage in a pulsating 4-4 draw against Man City, both in terms of his performance and the narrative. A sparkling, fearless display and an emphatic last-minute penalty against his former side that left FotMob users worldwide asking "Who is this Cole Palmer?"
2. Ronaldo (Al Nassr)
He may have traded in a career among the elite clubs of Europe for the up and coming Saudi Pro League, but Ronaldo's 20+ years of era-defining brilliance and relentless goalscoring will always put him in a world of his own. Well, almost his own. In the land of the mega stars, the US, Ronaldo remains the most viewed player, by quite some distance. 4 goals in November, 24 goals in 27 for the season and 863 in a glittering career.
1. Harry Kane (Bayern Munich)
It's fair to say that England's captain and record goalscorer has taken to the Bundesliga. With 22 goals and 7 assists in his first 18 games, his move to Bayern Munich has catapulted Kane to new levels of appreciation of just how good he really is. A consummate professional and teammate, a lethal finisher with either foot and with his head. Link up play better than anyone in the world, a humble work ethic and an array of dynamic attacking midfielders and wingers to hit with that impeccable passing range. Harry Kane left Spurs to win things. He's just won FotMob's Most Viewed Player in November. Will he get his hands on the Bundesliga? The Champions League? The Euros? With him in the team, there's always a chance.
Most Viewed Clubs
1. Manchester City
2. Manchester Utd
3. Arsenal
4. GIRONA
5. Real Madrid
6. Barcelona
7. Liverpool
8. Tottenham Hotspur
9. Chelsea
10. Al Nassr
Football's megabrands dominate the top ten most viewed clubs on FotMob, but within that there's a couple of very notable mentions.
Ronaldo's global army of superfans have made Al Nassr and their 25,000 capacity stadium the tenth most viewed club in the world, on FotMob. Placing the Saudi club higher than giants of the game, in Bayern Munich, the Milan clubs, and Juventus.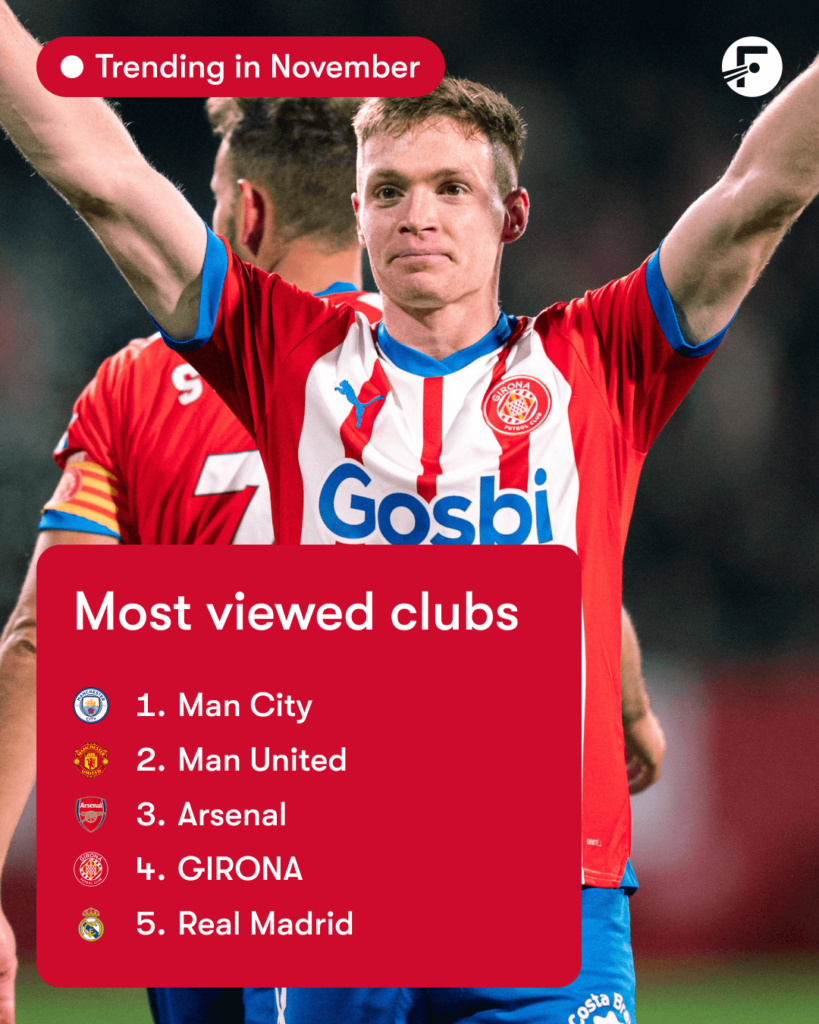 Beyond that, there's a story that contains no stars at all. Catalan club Girona have shocked the football world by daring to mix it with LaLiga royalty. Having amassed 35 points from their first 14 games, they sit level at the top of the table with Real Madrid. Everyone loves an underdog story and FotMob users are converging on their club page with curiosity to discover more.
Led by Michel and featuring a truly global team including Ukrainians Artem Dovbyk and Viktor Tsigankov, Brazilian teenager Savio, Dutch veteran Daley Blind, Venezuelan midfielder Yangel Herrera and the hugely impressive Alex Garcia, they are defying the odds and mixing it with the big boys. Long may it continue.
Most Viewed Match
12 million views of a perfect storm of a football game. Spurs v Chelsea in the Premier League saw 5 goals, 5 chalked off by VAR, 2 red cards, 25 shots, 8 yellow cards and a hat-trick. Throw in some of the most admirable but bewildering tactics ever seen in the Premier League, from Ange Postecoglou, and you've got a London derby for the ages.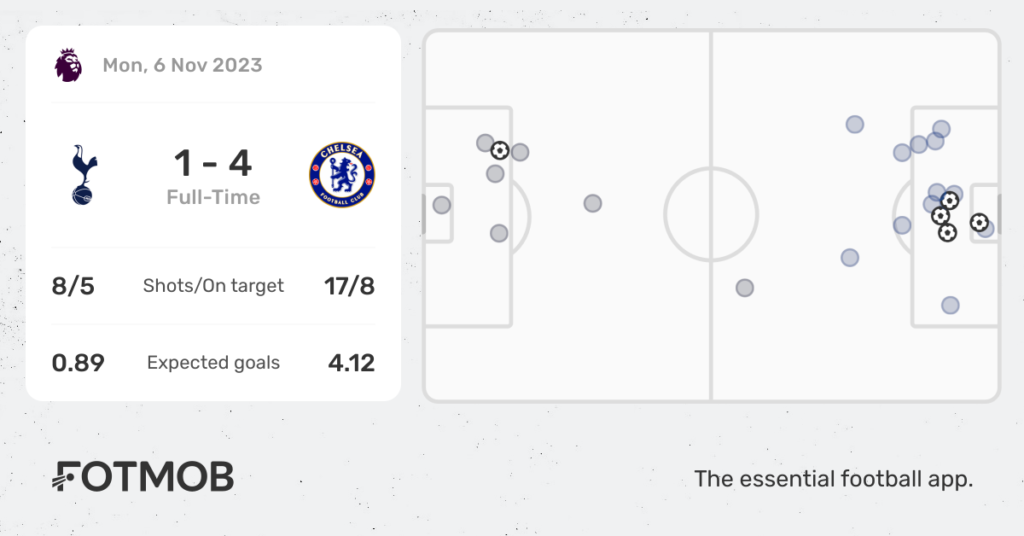 It was also the perfect storm to drive views. A huge amount of notifications to accompany a game packed with incident, sent out to global fans of our 8th and 9th most followed clubs. And with the game played out on a Monday night, in the UK, fans in the US could follow during the working day, and fans in Asia could awake on a Tuesday morning, open FotMob and try their very best to make sense of it all.
More games like this, please.
---
Images from IMAGO