In this weekend preview we summarise the best five games to follow on your match feed. And make a couple of suggestions for matches that you may otherwise miss.
---
In the 152 year history of the FA Cup, the world's oldest national football competition, there has never previously been a Manchester Derby in the Final. But now in this, the 142nd edition, and the 100th Final to be played at Wembley, we're all set for a clash between the blue and red halves of Manchester on Saturday.
Pep Guardiola's recently crowned Premier League champions are, of course, hunting down a treble with this match falling one week before their date with Inter in the final of the Champions League. For their part, United are gunning for a domestic cup double after they beat Newcastle to lift the Carabao Cup back in February. Something that, if achieved, must go down as a highly satisfactory return for coach Erik Ten Hag in his first season with the club.
The sides have previously met eight times in the FA Cup, with the head-to-head record reading 5-3 in United's favour, but probably move relevant to where we are now is a comparison of their 2022/23 Premier League campaign, which you can see here: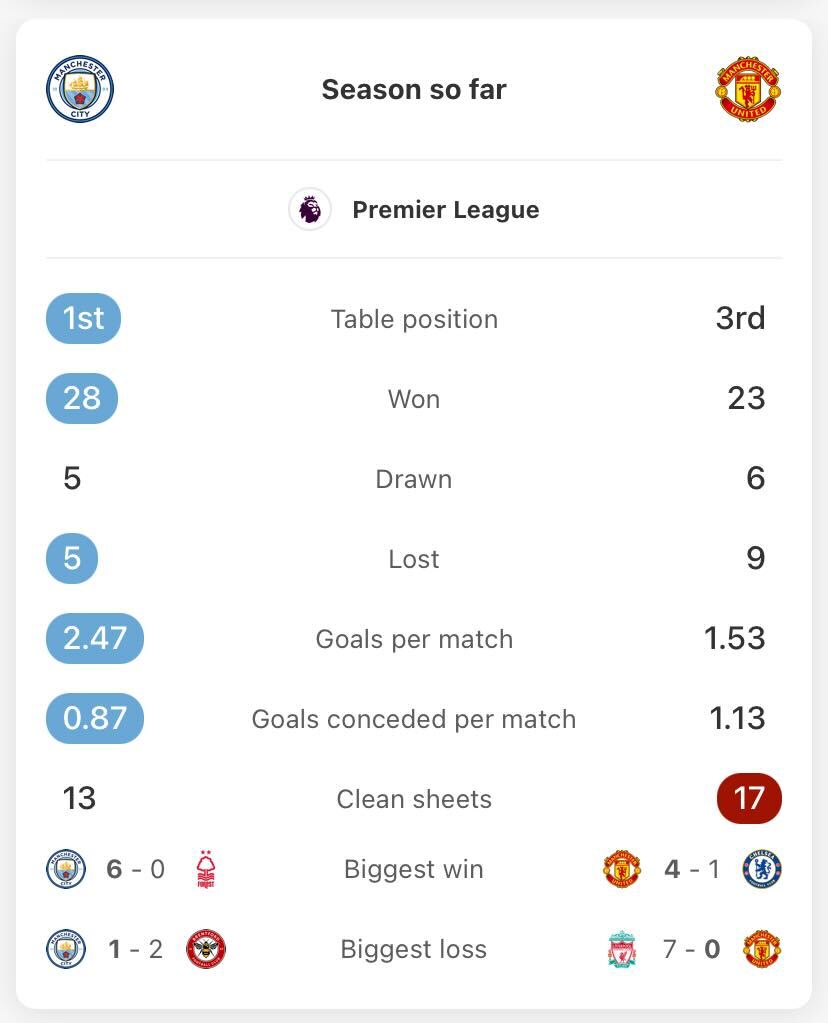 In the first of a number of big continental finals tipped in this column, we're listing Sunday's second leg between MLS side Los Angeles FC and León, from Liga MX, in the CONCACAF Champions League.
León looked to be in complete control of their own destiny as the two met in Mexico for the first leg on Wednesday night but a late goal from LAFC's in-form striker Denis Bouanga has changed the complexion of the tie.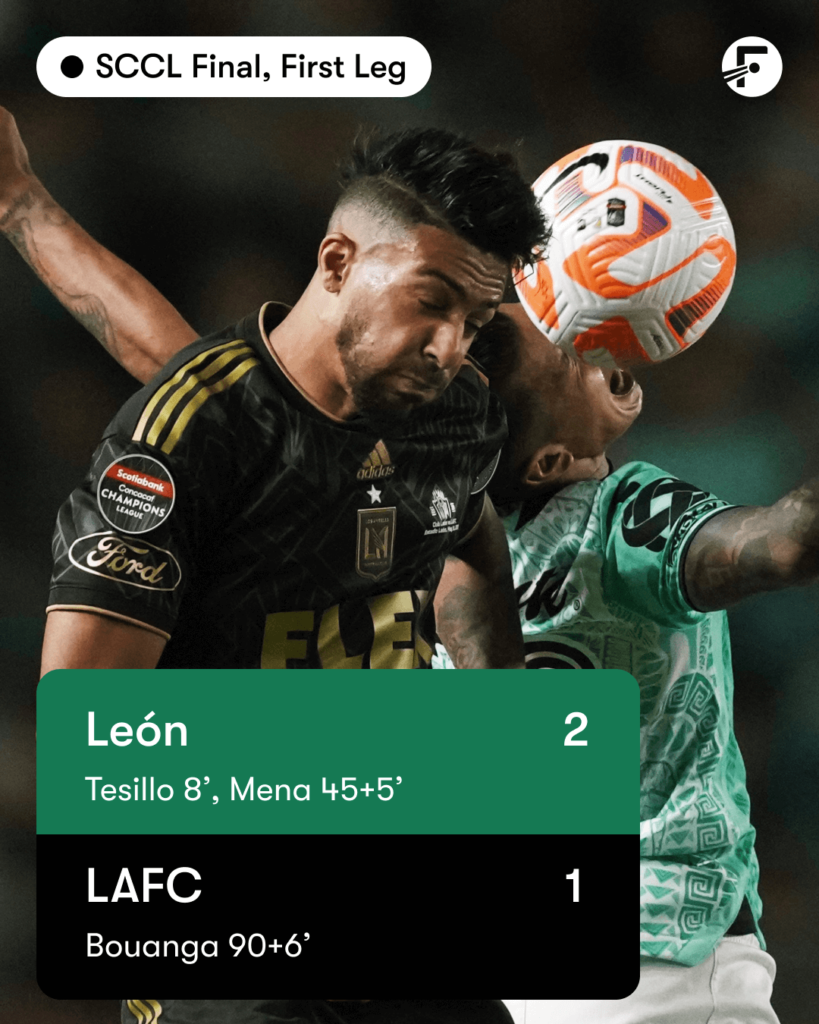 Bouanga now has seven goals in seven games during this cup run to go with 10 in 12 back in MLS since the turn of the year. And it's that kind of form that breeds confidence across a team, especially one that ended 2022 as the MLS Cup holders.
History does favour the side from Mexico but León are not amongst the country's 13 previous winners of the tournament (those 13 have won 37 titles between them). So could LAFC follow Seattle Sounders' example from winning last year by turning this game around and becoming the fourth MLS side to lift the trophy?
Sunday also sees Africa's biggest club game take place, with the first leg of the CAF Champions League being played in Cairo. And this particular match-up is one with a bit of recent history, with the game between Egyptian giants Al Ahly, and defending champions Wydad Casablanca being a repeat of last year's final.
In fact, the format of this season's competition reverted to a two-legged final precisely because of complaints from Al Ahly when that one-off 2022 final was played at the home of Wydad. The stadium had originally been selected as a neutral venue but the authorities refused to change plans despite it being the base of the one of the eventual finalists!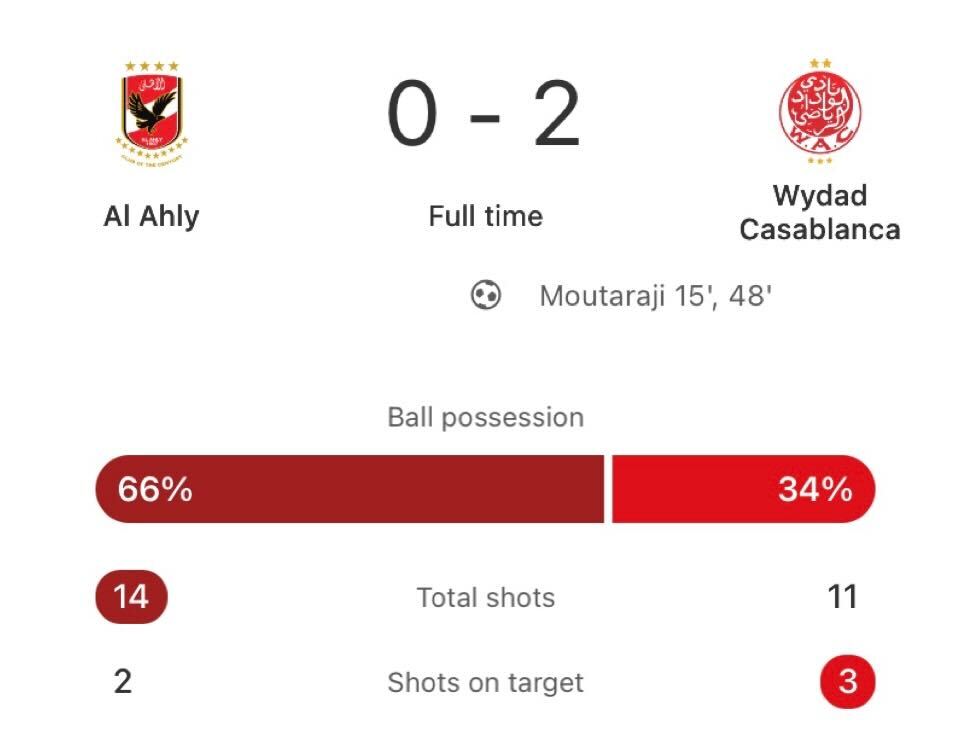 Perhaps unsurprisingly, with the weight of local support behind them, Wydad ran out 2-0 winners in that game and stopped Al Ahly claiming what would have been a hat-trick of titles. The Egyptians are famously Africa's most decorated club, with 10 wins in this competition, and they're currently top of the pile back in their domestic league. Wydad, meanwhile, sit second in Morocco with just a few rounds to play.
Back in Europe, at PSV Eindhoven's Philips Stadium to be precise, Saturday gives us the final in the Women's Champions League.
Barcelona are there again, for the third year running, as they look to become the dominant force across the board in women's football. They lost just once in Liga F this season, bringing home a fourth straight title with a record of 85 points, 118 goals scored, and just 10 conceded. But in Europe, at least, they don't have it all their own way – they won the 2021 final against Chelsea but were then beaten by Lyon in 2022.
Wolfsburg have a longer record of dominating the Frauen-Bundesliga, either winning it, or finishing as runners-up in each of the last 12 seasons. Unfortunately for them, this was one of the years in which they missed out – Bayern beat them to the title by just two points. They also have a proud history in the Champions League – winning it in 2013 and 2014 – but then losing out in each of their next three final appearances – 2016, 2018, and 2020. A streak they'll be looking to break.
Down under, the 18th season of the A-League comes to a close with Saturday's Grand Final. Fittingly, despite the play-off format that brings us to this point, it's the regular season's top two finishers who meet in the final: Premier Plate winners Melbourne City and Central Coast Mariners.
The Mariners beat Adelaide United on the last day of the season to take second spot and earn a bye to the semi-finals of the play-offs where they then met, and beat, Adelaide again. Melbourne, on the other hand, reached their third consecutive Grand Final thanks to a convincing 5-1 aggregate win over Sydney FC.
City have been crowned Premiers by virtue of finishing top in the regular season in each of the last three years but they have only won one Grand Final so far – the 2020 edition, also against Sydney.
The two previous meetings between the finalists this season have been close affairs – City beating the Mariners 1-0 in December before they shared a 1-1 draw in April.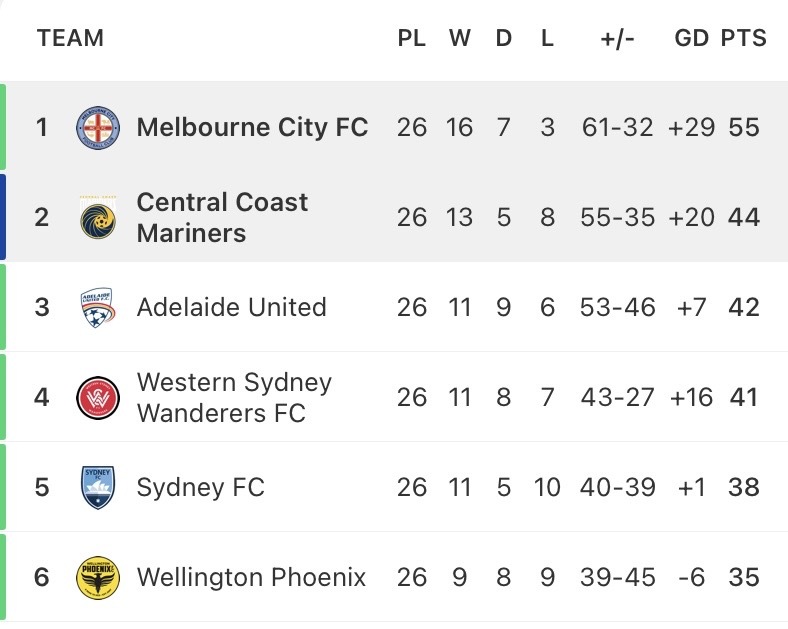 ---
Plus two hidden gems from a little deeper in your match feed…
Sunday is going to be a dramatic day in Belgium where three of the four sides in the Championship play-off group still have a chance of taking the title on the final day of the season!
As mentioned last week – two of those three have been waiting a very long time for this (potentially title winning) day – Antwerp since 1957, Union St. Gilloise since 1935. But it's the game between Antwerp and the third challengers, Genk, that will have the biggest impact on proceedings.
Genk and Union finished neck-and-neck at the end of the regular season but with all points halved and rounded-up ahead of the play-offs, it meant that Antwerp only needed to make up two points in the last six games. After wins over Union, Genk, and Club Brugge, they looked odds on to romp home but defeat in the return against Brugge and then last week's draw with Union has left us with this tense three-way battle on the final day.
Should Union beat Brugge in the other game, they will need Antwerp to drop points. At present the two are only split by virtue of Antwerp finishing the regular season on an even number of points, meaning that when their tally was halved, they was no rounding up involved – unlike Union and Genk. But we'll leave it there before explaining the format causes any more confusion.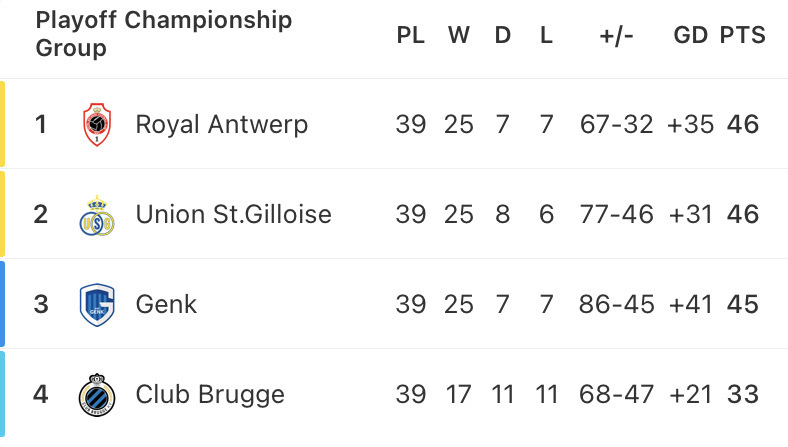 And finally this week, we're recommending yet another final day, title-deciding game. This time in Bulgaria.
Imagine this scenario, if you will. CSKA Sofia, who are on the rise again after bankruptcy and controversy, have the chance to end Ludogorets' 11 year reign as Champions. They lead them by a single point with one game to play. But that game comes against CSKA 1948, a club formed amidst the acrimony and fall-out from the collapse of the original CSKA, and one that still contests the name, albeit legally, can no longer also contest the history and previous titles now owned once more by CSKA Sofia.
And then take in the fact that Ludogorets' final game comes against Levski Sofia, historically CSKA's fiercest rivals.
All that should make for a hectic final day, and one where, no doubt, various conspiracies and controversies will take hold.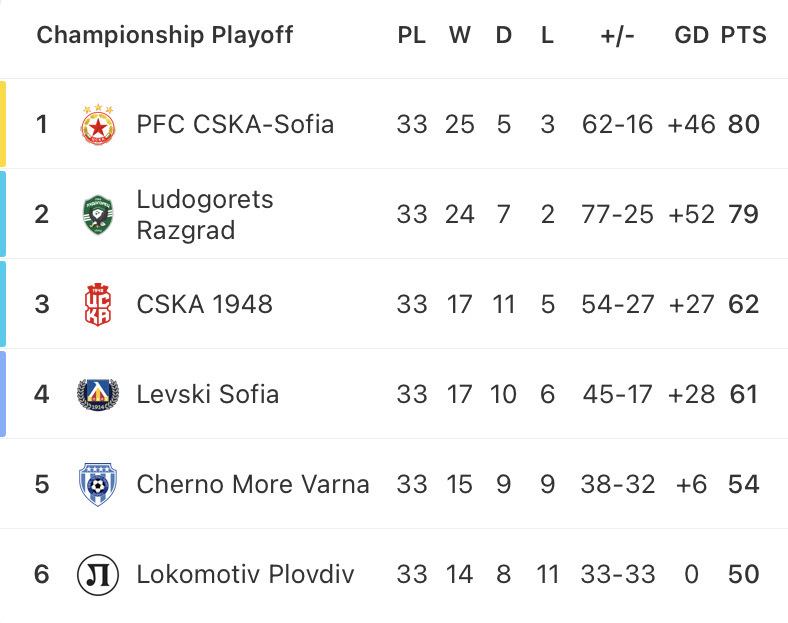 ---
If you want to follow any of the games mentioned above, click on the relevant link and tap the bell icon to receive all the key match updates.
Or join us on Twitter, Facebook and Instagram to discuss all the important football going on this weekend!
Cover Image from IMAGO