When we checked earlier in the week and had final confirmation that so many leagues were returning to the app over the next few days, we got a little bit excited! Yes, we might still be waiting for re-starts in the Premier League, La Liga and Serie A but there's plenty of stories out there and important games to follow – here's our pick of the weekend's action.
---
🍽 Friday Night.
🇩🇪 There's just one headline game in the Bundesliga with Freiburg hosting Bayer Leverkusen, one of the sides who are very much in the hunt for a place in next season's Champions League.
Leverkusen were unbeaten in 12 games going into the midweek round but a chastising 4-1 home defeat to Wolfsburg should see them looking to bounce back tonight. They sit 4th, a whopping 15 points above Freiburg in 8th.
🇦🇹 Silverware is on the line in Austria! After 77 days without a competitive game in the country, they're kickstarting a return to football with the final of the ÖFB Cup.
And it should be an interesting contest between Red Bull Salzburg and 2nd division side, Austria Lustenau. On one side you have the giants Salzburg, who've won the last 6 league titles in a row and 6 of the last 8 Cups to boot – on the other, you have a side who last reached the top flight in the mid-1990s. They couldn't win it could they!?
🇷🇸 There could also be a trophy won elsewhere this evening, as the SuperLiga season re-starts in Serbia.
Red Star Belgrade, or Crvena zvezda were 11 points clear at the top of the table when football stopped but as the season has now been curtailed and they will not be splitting for the traditional Championship and Relegation groups, there are instead just 4 rounds left to play.
That means that tantalisingly, they just need a point to pick up their 3rd straight title. And tonight, Red Star travel across Belgrade to relegation threatened, FK Rad to try and seal the deal.
---
🔥 Saturday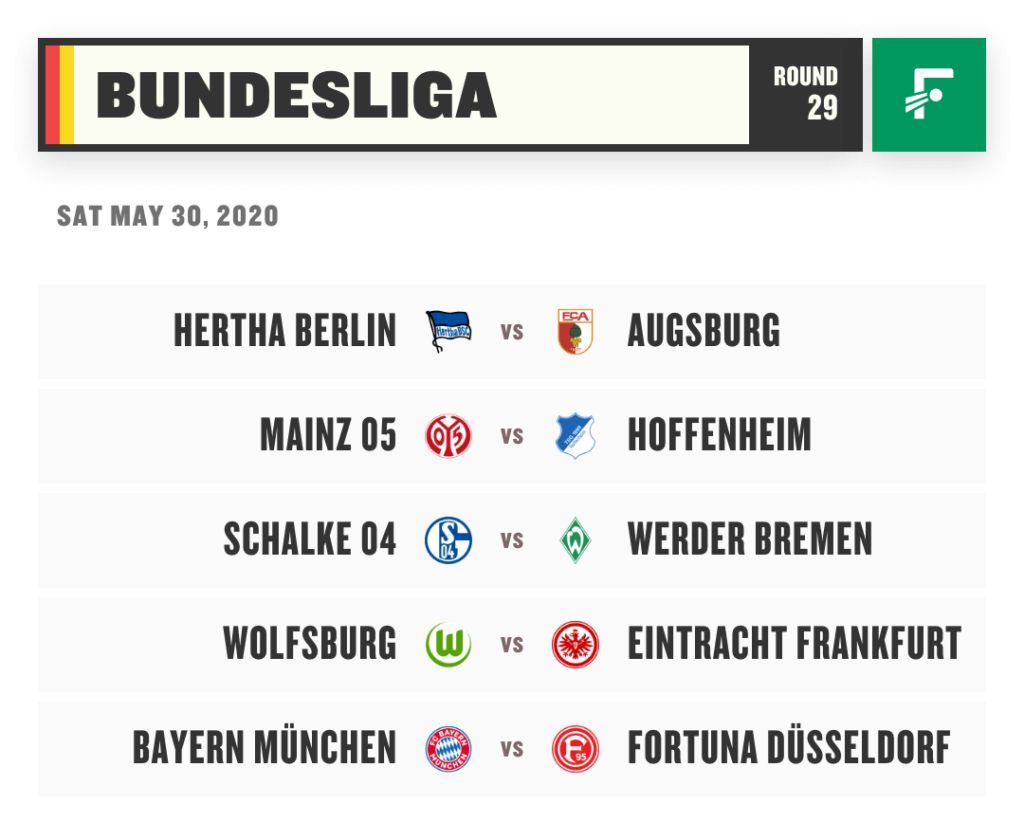 🇩🇪 There are five games in the Bundesliga tomorrow, with Champions-elect Bayern München featuring in the late kick-off against Fortuna Düsseldorf. After their midweek win over Borussia Dortmund in Der Klassiker, Bayern now sit 7 points clear in the table.
Don't forget that we also have coverage for the German second tier, 2. Bundesliga and the Fraeun-Bundesliga but if it's a real title race you're after, you could do worse than follow the return of the 3. Liga, where action starts on Saturday.
🇵🇱 The Polish Ekstraklasa is amongst a host of Eastern European leagues back in the app this weekend and there too, they have scheduled a juicy looking game between two of the country's biggest clubs.
Lech Poznań may sit down in 5th, but they'll be looking to slow the progress of league leaders and arch-rivals, Legia Warsaw.
---
🛌 Sunday
🇩🇪 Borussia Dortmund are probably the biggest side in the world playing on Sunday, but they'll be hoping for a little less attention from the media and a routine win to ease their shattered confidence. Dortmund will be playing the Bundesliga's bottom-side, Paderborn.
After that midweek defeat to Bayern in what was being tipped to be their best change of challenging their rivals for the title in recent years, manager Lucian Favre must be worried about his job security.
🇩🇪 Staying in Germany, but dropping a level – Dynamo Dresden return to action after they were the only high profile side to have their quarantine extended following a number of the squad testing positive for coronavirus. They sit bottom, but now with a number of games in hand and on Sunday, they go up against one of the big boys gunning for promotion – Stuttgart.
🇺🇦 There will be another massive Eastern European Derby in the Ukraine on Sunday where the league, already split into Championship and Relegation groups serves up the fixture between Shakhtar Donetsk and Dynamo Kyiv. Having won every title between them since 1992, this really is a case of the Big 2.
🇰🇷 Lastly, two games to look out for in the K League on Sunday. FC Seoul will be hoping for less defensive mistakes and more of what's seen them win their last two when they play Seongnam, whilst the live game that you'll be able to watch on YouTube via our friends at Copa90, is the clash between Incheon United and Pohang Steelers.
---
If you want to follow any of the games mentioned above, click on the relevant link and tap the bell icon to receive all the key match updates.
Or join us on Twitter, Facebook and Instagram to discuss all the important football going on this weekend!